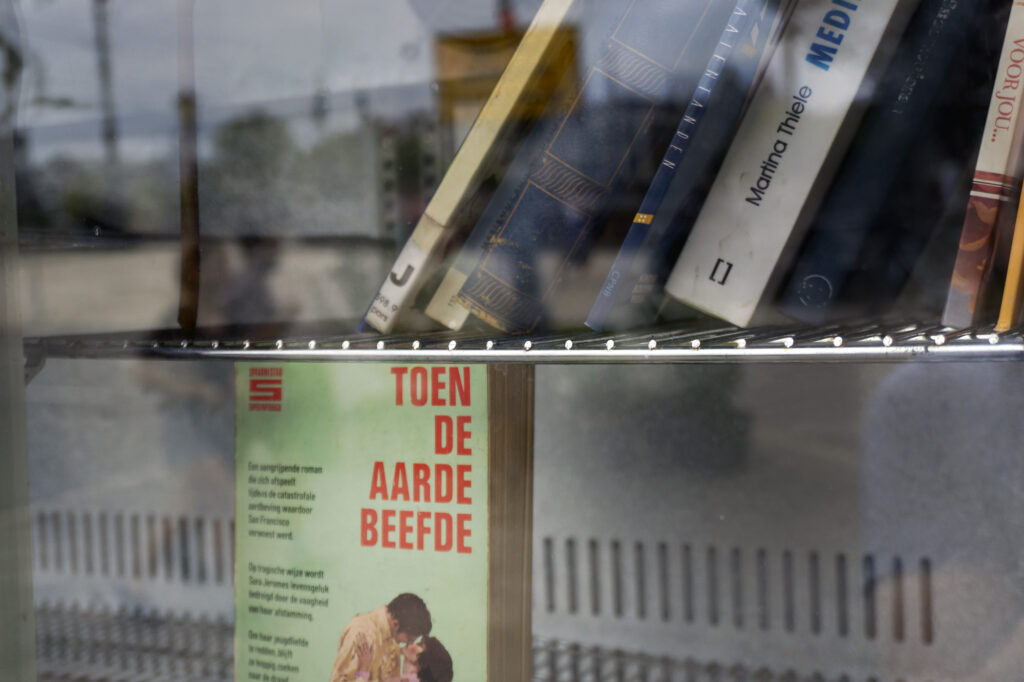 Photographic-Audio work 2020

A journey in photos and audio along small public bookcases in Amsterdam and Antwerp. Conversations about language, untranslatable feelings and connectedness.

Exhibitions: OBA Amsterdam, Huis van alle Talen, Dag van de Europese Taal, EUNIC.
Supported by Amarte Fonds. Thanks to SonoDocs  
Met dank aan Maud Vanhauwaert en de Toren van Babel in Antwerpen.
Muziek Blue Dot Sessions (Free Music Archive / NonCommercial License)
ENGLISH
The small public bookcases hang from facades, are hidden between bicycles or behind planters. Locals exchange books or browse paper landscapes. A man tells us that he encounters a variety of languages in the bookcases, from Dutch, Russian, English, Chinese to Turkish. As if the whole world comes together on those tiny self-built bookshelves.
Every big city is like a modern tower of Babel. Cities such as Amsterdam or Antwerp easily accommodate more than 170 different tongues. The story of the Tower of Babel labels multilingualism as a form of penitence, but the parable is always misspelled. The construction of the celestial tower did not end in speech confusion; on the contrary, the stacking of stones brought people together.
This photo and audio exhibition explores the linguistic knot called man. A journey past public bookcases and conversations about multilingualism and untranslatable feelings.
NEDERLANDS
De kleine openbare boekenkastjes hangen aan gevels, staan verborgen tussen fietsen of achter plantenbakken. Buurtbewoners ruilen er hun boeken of grasduinen in papieren vergezichten. Een man die we tegenkomen vertelt dat je alle talen in de boekenkasten terugvindt, van Nederlands, Russisch, Engels, Chinees tot Turks. Alsof heel de wereld samenkomt op die zelf getimmerde boekenplankjes.
Elke grote stad herbergt een polyglotte menigte. Steden als Amsterdam of Antwerpen herbergen makkelijk meer dan 170 tongvallen, ze zijn als een moderne toren van Babel. Het verhaal van de Toren van Babel bestempelt meertaligheid als een vorm van boetedoening, maar de parabel is altijd verkeerd verteld. De bouw van de hemelse toren eindigde niet in spraakverwarring, integendeel, het stapelen van stenen bracht mensen bij elkaar.
Deze foto- en audioexpositie verkent de talige knoop die de mens is. Een reis langs openbare boekenkastjes en audiogesprekken over meertaligheid en onvertaalbare gevoelens.