Prosper de Roos makes films, audioworks, photographic work and writes. Non-fiction and crossovers.
Prosper investigates the dividing line between human and non-human. The lumpy knot of man, society, nature and technology. Current works focus on listening, to each other, the world around us and to heterotopia, places that defy normal logic.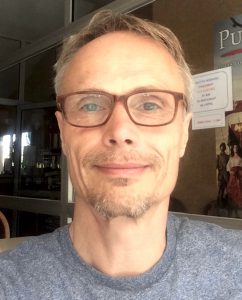 ---
Prosper taught at St. Joost Breda and Artez Zwolle. His works were selected for Prix Europa, SXSW, National Media Museum Bradford, Best of IDFA on tour, Dutch Public Networks, After Sunset Festival, Oorzaken festival, Radio 1, Schieblok IFFR, Clermont Ferrand, Porto Bello London, Raindance, Cologne international Film & Television Conference, Rooftop Festival NY.
Nominated for Prix Europa 2016 & 2015 // Recipient Jan Kassies Award with Plots makers, Dutch Media Fund 2013 // Winner Dutch Zilveren Reissmicrofoon with VPRO Plots 2013 // Nominated best doc Porto Bello Festival London 2010 // TopTen Cologne international Film & Television Conference 2009 // Golden Olive Award Bunker Festival 2002.
---
Education: St. Joost Academy, Visual Arts, Breda, the Netherlands // MA Philosophy, University of Amsterdam // DocLab Immersive Reality IDFA // School of Photography, documentary photography, The Hague. Download CV